Adsmovil win in the Reed Awards with New Latino Voice Poll 2020
Adsmovil won the Reed Awards, in the category 'Best Use of Mobile Technology' with the case "New Latino Voice Poll 2020", a study that aims to measure the voting intention of Hispanics in the U.S. using the technology and capabilities of mobile advertising.
The study was conducted in collaboration with Eduardo A. Gamarra, professor at the University of Florida and founder of the consultancy ICR, which specializes in communication, research and political campaign strategy in the U.S. Hispanic market.
The New Latino Voice was first implemented during the 2016 presidential elections surveying over 400,000 Hispanic voters. With significant upgrades, and in preparation for the 2020 presidential election, Adsmovil launched the "New Latino Voice 2020″ tracking Hispanic voter intent across the US and finding key political battlegrounds where Hispanics are expected to play a decisive role.
Hispanic voters will reach a record high of 32 million eligible to vote thus becoming the largest voting minority, surpassing for the first time African American voters. Concentrated in key states such as Florida, Texas, California, New York, New Mexico, Arizona and Nevada, the Hispanic vote will likely have a significant impact on the election results.
The broad experience of Adsmovil identifying US Hispanics and reaching them through Mobile technologies allows us to classify Hispanics by country of origin, age, gender, political party, congressional district, language preferences and to reach them through our poll on their mobile devices.
For the "New Latino voice 2020", Adsmovil built audiences within the Hispanic community combining strategies based on mobile behavior analysis including the frequency and time spent consuming Hispanic content; search enhancement; where Hispanics are and where they spend time; type of apps installed on their devices and, engagement with ads. All this made it possible to classify Hispanics by country of origin, language preferences, interests, generation, age, and others.
This New Latino Voice 2020 not only allows us to reach Hispanics with more granularity, but it is also more efficient and less expensive than traditional by-phone calls or personal visits. We create and modify questions quickly and receive the results immediately.
The first mobile poll reached more than 5,000 U.S. Hispanics and their survey responses were measured and analyzed to gain statistical significance for the electoral districts targeted.
"The polling data found that the main problems affecting Hispanics are access to health care, jobs, and immigration. In Florida, while Hispanics worry about immigration, they are more concerned with language and gun violence. President Trump's approval rating was also found to be low with 63% of Hispanics disapproving of how he has performed the job as president", said Professor Eduardo Gamarra.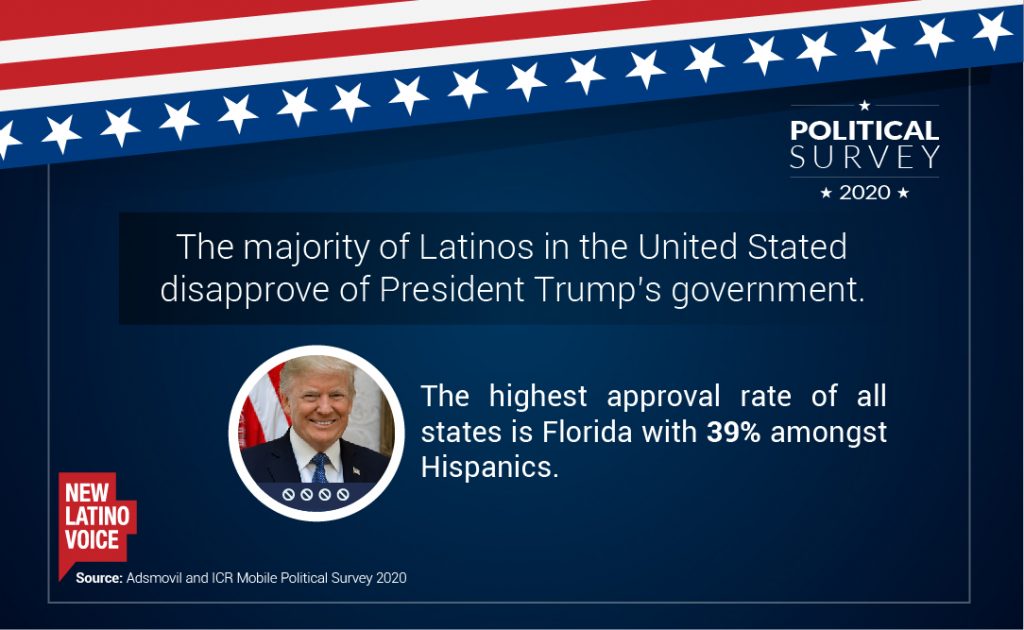 "The US Hispanic population is very diverse—years-in-country, age, country of origin, language preference and family- makeup differences can change one's behaviors. That is why it was essential for us to measure and compare the different responses of Hispanic Mexican versus Hispanic Venezuelan people, Hispanic in Florida versus Hispanic in New York, Spanish dominant vs English dominant and many others classifications. This diversity in audiences and accuracy was achieved by applying different algorithms in our mobile inventory with Hispanic content", mentioned Adriana Daantje, Head of US Product and Operation at Adsmovil.