The latest results of the 'New Latino Voice Poll 2020' executed by Adsmovil indicates that racism in the United States is a very serious issue.
Adsmovil runs mobile polls by using their technology and precise targeting capabilities to reach the U.S Hispanic audience by country of origin and political party preference. The idea is to learn how Latinos feel about the candidates and other important issues.
For the 'New Latino Voice Poll 2020' Adsmovil has partnered with ICR consulting (Professor Eduardo Gamarra), which specializes in political campaign communication, measurement and strategy in the US Hispanic and Latin American markets.
This past week, Adsmovil asked their US Hispanic audiences the following questions:
How serious do you think racism is in the US?
How are Latinos treated in the US?
If the presidential elections were today, which of the candidates would you vote for?
Below you will find the results:
3%of Latinos think that racism in the United States is very serious.
8% of Latinos are not satisfied with the way they are treated in the United States.
By nationality: 30% of Cubans say they are very satisfied, while 53.5% of Puerto Ricans and 66.7% of Salvadorans feel completely dissatisfied.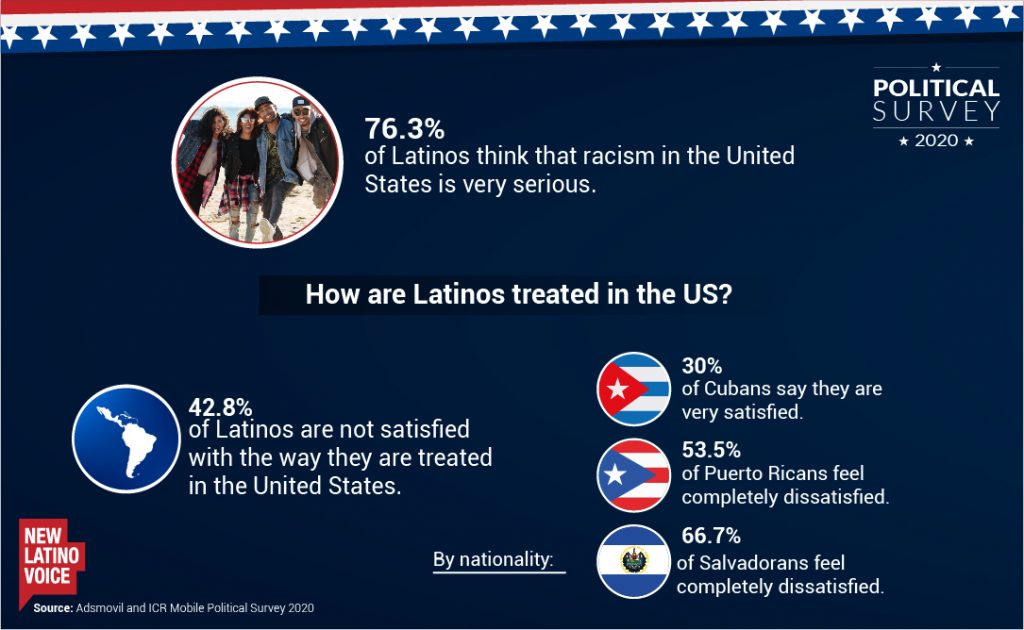 For the question regarding the upcoming presidential election, the results were as follows:
Joe Biden would be the winner with 52% of the Latino vote, 32% for none and 15% for Donald Trump.
1% of women and 49.9% of men would vote for Joe Biden, a candidate who also takes the lead among the different age ranges of Latinos.
While analyzing these results according to the nationality of Latino voters, Adsmovil found that 54.5% of Cubans support Donald Trump, the rest support Biden, although almost a third of Venezuelans would also vote for Trump.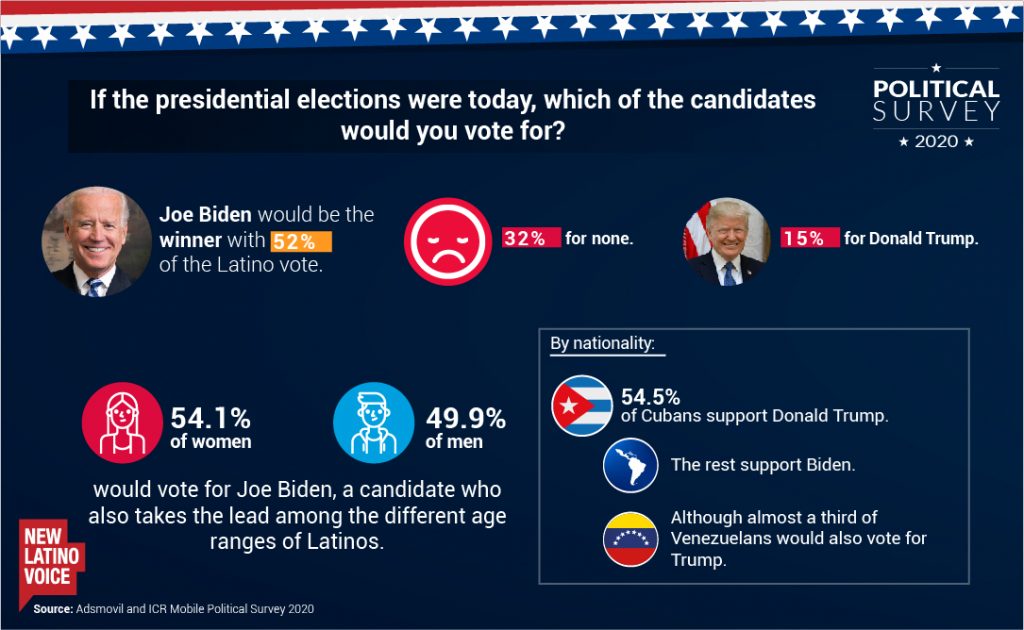 Adsmovil has been an expert in executing Political election campaigns to reach Hispanics since 2012.  In 2020, Adsmovil earned the Reed Awards, the most prestigious award in political campaigns & advocacy with the 'New Latino Voice Poll 2020' campaign for the "Best Use of Mobile Technology" category.